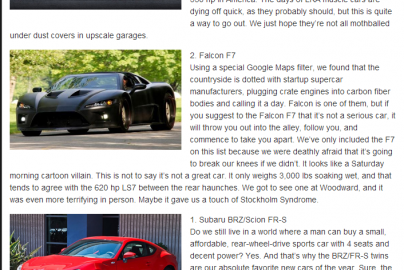 It's Monday. It's New Year's Eve. And it's snowing like a 1988 top-loader VCR with a broken tracking knob. Needless to say, focus is hard to come by in an office on a day like this. But that doesn't mean we can't bring you something fun to read. It just means it might be a little…softball. But everybody loves these year-end lists, anyway, right? Right. Onward.
A quick note: though this is a 2012 year-end awards show, due to our peculiar American penchant for releasing cars the year before they're actually stamped, most of these will be 2013 model year vehicles. They had to be brand new, redesigns or new special editions, and they couldn't be delivered in America before 2012.
9. Ford Fusion
As countless data-slinging auto-journos have remarked upon, the new Fusion looks like a Brit-carved Aston Martin, and we don't disagree. The clean, professional grille is striking, and the rest of the lines are just tight. Ford even kept the manual dream alive, offering a 6-speed in the 1.6 EcoBoost. Yes, they should have offered it in the 2.0 EcoBoost, as well, but they'll learn.
8. Ford Focus ST
No, this won't be a Ford shutout, but we can't skip the Focus ST. It was Ford's first car under the ST brand, and gave rise to the possibly more awesome 2014 Fiesta ST. But that doesn't mean the Focus doesn't have its own merits. There's that trick inner-wheel-braking gizmo, tapped from the ranks of banned F1 tech, and the experts say that despite the 270 lb-ft of torque and the 252 hp spit out by the 2 liter EcoBoost mill, Ford's anti-torque-steer-vectoring sorcery does the trick. We also love that the ST is only available with a stick.
7. Lamborghini Aventador Roadster
The original Aventador would have made our list last year (if we'd bothered to stop watching Adventure Time and written one) on styling alone, but its performance was nothing to ignore. Wanting to satisfy this year's freckle-growing crowd, they lopped off the roof, but they did it rather tastefully. Nor did they bother about your expensive hairdo, because the Roadster can still hit two hundred and seventeen miles per hour.
6. Cadillac ATS
Cadillac needed a smaller car than the CTS, and they could have cheaped out on us. They could have rebadged a Buick or a Chevy for a boring, FWD experience, designed to get the aspiring tycoon to the driving range…like Lincoln does. But they refused, and built instead another interesting car, targeting the BMW 3-series. We love the ATS. We love its fetching but unassuming design, its 273 hp 2 liter turbo engine, and its 6-speed manual. We salute Cadillac for knowing what luxury buyers want and keeping cars fun.
5. Ferrari F12 Berlinetta
It's the fastest production Ferrari ever built. It goes on the list.
4. Dodge SRT Viper
It's hard to express the relief and joy we felt when we heard that Chrysler's timeless supercar was returning. When we finally saw it we each had an aneurism. It was a very expensive time for the company. But there it was, all dripping red and beautiful in every conceivable way. Including the 8.4 liter V-10, which produces 640 hp. The Viper even ran ALMS this year. It is our hero.
3. Ford Mustang Shelby GT500
Now, the aforementioned Viper is a supercar, so 640 hp isn't unusual. It is, however, unusual in a Shelby Mustang, which is a muscle car that's had some work done. It's the most powerful Shelby to ever come out of the factory, and somehow the 5.4 liter supercharged V8 still gets 24 mpg on the highway – making it the most efficient engine over 550 hp in America. The days of LRA muscle cars are dying off quick, as they probably should, but this is quite a way to go out. We just hope they're not all mothballed under dust covers in upscale garages.
2. Falcon F7
Using a special Google Maps filter, we found that the countryside is dotted with startup supercar manufacturers, plugging crate engines into carbon fiber bodies and calling it a day. Falcon is one of them, but if you suggest to the Falcon F7 that it's not a serious car, it will throw you out into the alley, follow you, and commence to take you apart. We've only included the F7 on this list because we were deathly afraid that it's going to break our knees if we didn't. It looks like a Saturday morning cartoon villain. This is not to say it's not a great car. It only weighs 3,000 lbs soaking wet, and that tends to agree with the 620 hp LS7 between the rear haunches. We got to see one at Woodward, and it was even more terrifying in person. Maybe it gave us a touch of Stockholm Syndrome.
1. Subaru BRZ/Scion FR-S
Do we still live in a world where a man can buy a small, affordable, rear-wheel-drive sports car with 4 seats and decent power? Yes. And that's why the BRZ/FR-S twins are our absolute favorite new cars of the year. Sure, the 2.0 boxer four only makes 200 hp, and yes, you'll have to remove your legs before riding in the back seat, but Toyota, together with their indentured servant Subaru, might have revived an entire segment with their little homage to the classic AE86 platform. It's a real sports car, from a reliable manufacturer, and it's supposed to be a perfect blast to drive. Now that it's proven successful, flying out of showrooms like Mustang brochures at the hands of 11-year-olds, could we see competitors from Mazda, Nissan, yea, Honda? Perhaps.
Well, it's still snowing and it's lunch time. What were your favorite new releases of 2012?