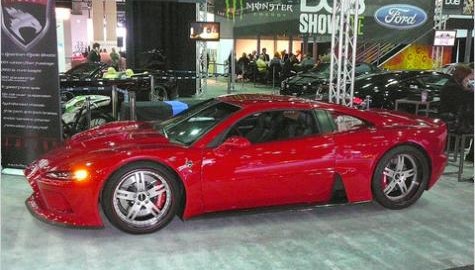 Introduced on Tuesday:  Mach7 Motorsports Falcon
Is it real? Orders are being logged at the company's offices in Holly, Mich., even though the final product's design has not yet been finalized.
What they said: "It's a work in progress," said a Mach7 spokesman, Jeff Lemke. Even so, the Falcon looks every bit a production-ready project. A man and wife, we were told, were interested in buying him-and-her versions in different colors. That would reduce the total number available for delivery this year to 13.
What they didn't say: Finding buyers for the remaining 13 examples may not be as easy.
What makes it tick? A General Motors-sourced LS3 V-8, producing 500 horsepower, would be the base Falcon's prime mover. However, for an undisclosed premium, buyers can opt for a 640-horsepower LS9. Built on a hydroformed aluminum chassis and weighing 2,850 pounds, the Falcon should offer performance comparable to the outgoing Dodge Viper.
How much? How soon? "We're straddling that $200,000 line," said Nick Dymond, a company representative. The finalized Falcon is expected to ship this year.
How's it look? The Falcon's carbon-fiber body reads like a composite of a 12-year-old's Matchbox collection — but that's no bad thing for a company best known as a preferred customizer of Dodge Vipers. Hood scoops plumb depths not seen since the Ferrari F50 hypercar. Maranello's influence extends to the 288 GTO-like flying buttresses connecting roof and rear deck. There is also something of an F-18 Hornet fighter jet in the Falcon's overall quick-strike mien.