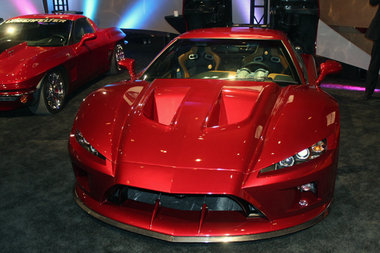 DETROIT, MI- "The Gallery" continues to evolve as the North American International Auto Show's premier event for ultra-luxury car buyers.
The private event — attended by about 400 or so people Saturday night — featured nearly 30 vehicles valued at more than $7 million, according to officials. For the first time in its seven-year history, the Gallery also featured a fashion show from Detroit's Styleline Magazine with fashions provided by Neiman Marcus.
"It was high energy," said Bob Caza, producer of the event and executive director 9 Communications.
Caza said the average price point of the vehicles is between $100,000-$200,000. The most expensive vehicle on display was the Lamborghini Aventador with a price tag just under $400,000.
Vehicles brands at the event included Aston Martin, Bentley, Falcon Motorsports, Ferrari, Jaguar, Lamborghini, Lingenfelter, Maserati, McLaren, Porsche, Range Rover, Rolls-Royce and SRT.
A handful of the 13 brands in attendance, Caza said, either sold vehicles or have sales pending.
"There was a lot of cars moving last night, which is always good" he told MLive during a media preview of the vehicles Sunday morning.
One of the most popular vehicles at The Gallery, according to officials, was the Michigan-made Falcon F7, a carbon fiber body super car featuring a 427 cubic inch LS-7 engine with Lingenfelter high performance components.
"It's amazing," said Noel Thompson, of Falcon Motor Sports in Holly, Mich. "This car always attracts a lot of attention."
The F7 has a price tag of $229,000.
The event was presented by Dan Gilbert's Opportunity Detroit. Limited presale tickets were available for $500 each, but most attendees were exclusively invited.
The NAIAS is considered one of the top global automotive events in the world and of huge importance to Metro Detroit. Since its introduction 25 years ago, officials estimate the show has had a $9.7 billion economic impact on the region. This year is expected to have a $365 million impact.
The Detroit auto show will be open to the public from Jan. 18-26 at Cobo Center, One Washington Blvd., following Press Preview Jan. 13-14; Industry Preview Jan. 15-16; and the Charity Preview featuring musician Sheryl Crow on Jan. 17.
Automakers are expected to unveil more than 50 vehicles during the two-day Press Preview to start the 2014 NAIAS.
http://www.mlive.com/naias/index.ssf/2014/01/detroit_auto_show_7_million_in.html