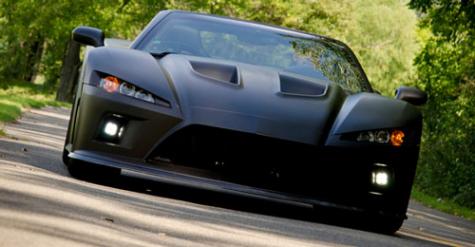 The Ford GT.  The C6 Corvette.  The Dodge Viper.  The Big Three all make (or made) supercars, and they're each fit to press the air from your lungs with beauty and lateral
G.  But big American automakers, lately in particular, have to be cautious with their projects.  Styling must remain conservative enough to hook every last customer, because as much as we hate it, supercars don't make much money.  Ford couldn't make a bonkers R version of the GT to challenge current records.  And GM couldn't plant that big LS behind the cab.  When the Aveo is your sponsor, you can't build a mythical beast like Pagani, Noble, or Koenigsegg.
Thankfully, America has never been entirely devoid of small supercar firms, those pokey little banished cousins who refuse to quit.  Malcolm Bricklin did it back in the 70s with his fiberglass, snap-together kit cars.  SSC is doing it now, and doing it quite well.  And last month at the Detroit Auto Show, a new challenger arrived.  They called themselves Falcon and they bore us a gift.  It's called the F7, and it's almost perfect.
Since it's a supercar, you want to first discuss the massive power.  But you can't.  And you want to compare that power to the weight, which, thanks to its carbon fiber body, might top 3,000 lbs if Emma Stone filled the tank and then got in.  But you can't do that, either.
Because when you look at the Falcon F7, you can't say much at all.  It's simply stunning, exactly what you'd get if you described a supercar to an artist who had never seen one, exactly what you've always wanted a supercar to look like.
Its none-too-stubby hood, which flaunts a daring pair of big, functional downforce ducts, ends with a face like a young Clint Eastwood- right before he pulls the trigger and takes his revenge on you.  There's a chunky, squarish brake vent behind each door, and the ceiling comes off.  It's a real live targa!  The kind we had in the early 90's, which some of us barely remember.  Off the tail you'll see an asphalt-threshing diffuser and a matching set of dilithium-chrystal-antimatter-warp-drive engines, sourced from an early Enterprise.
In short, the Falcon F7 looks to have been designed by en eight-year-old with a PhD, or else an eccentric jet builder with a penchant for Saturday morning cartoons.  It's breathtaking, but not like an Aston Martin or a Veyron.  Its soundtrack is not an opera excerpt or the latest from Yo Yo Ma.  It's Dream Theater or The Wall.  It makes you gasp, but only so you can laugh like a kid at the zoo.  "I want to ride one!" you exclaim.
Well.  That about covers it, right?  Oh, no, there's power too, of course.  Now that we've composed ourselves, we can let you know that under that deck lid resides not a high-revving Italian, but a smack-talking American V8.  You can get your Falcon with an LS3 or an LS7, courtesy Corvette (who also donated most of the suspension), bolted to a chest hair cultivating, six-speed manual.  The LS7 blasts out 620 hp and 585 lb-ft of torque, enough to get the leg-pressable car to 60 in 3.6 seconds.  Falcon, ever the Americans, even advertise the quarter mile time: 10.9, stock.
All of this LSourcing is also good for parts availability and (relatively) cheap maintenance and tuning, which is something to consider when you see the price.  See, every supercar has to meet two of the three following qualifications before it can be called a true supercar: It must have two seats.  It must be loud, both aurally and otherwise.  And it must be unreachably expensive.  Unfortunately, Falcon were going for checkmarks across the board, because the F7, at its cheapest, will set you back a $225,000.  And if we're honest, that's probably a little steep for an LS-powered shed car, but someone has to cover the R&D, right?  Plus, you're buying exclusivity, because Falcon is only building ten copies.
Thus, few of us will likely ever see one, much less throw down the quarter million bones for it.  But since we're dreaming anyway, we'll make a spot in the unattainable dream garage for the Falcon F7, not for what we can do with it, but for what it does to us.