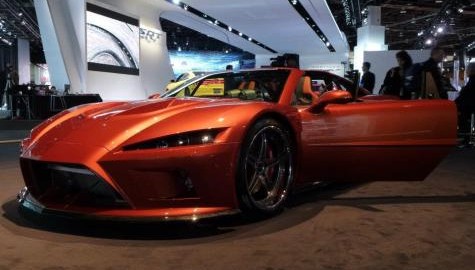 As American car companies continue its trend to produce environmentally friendly vehicles for the everyday driver there is one Michigan auto company that is doing the exact opposite – building the next home-grown super car.
Falcon Motorsports, a company based out of Holly, Michigan, is bringing back memories of a previous era of American automotive history. A time where American ingenuity produced unbelievable super cars with unique designs and the ability to roar down a highway at unimaginable speeds.
Introducing the F7 – it recently turned heads in Detroit at the annual North American International Auto Show (NAIAS) and even caught the attention of Top Gear USA.
"We're very excited," said Jason Verbrugghe, a Falcon representative. "We want to be able to help re-vitalize that motor city aspect of Michigan. So to have another super car aspect actually coming from Michigan is pretty impressive right now. There is nothing really super car that's on its own here."
Falcon Motorsports logo shimmers against the bronze painted F7 (Aman Dhanoa)After spending years of tinkering and retrofitting existing Vipers and Corvettes, Falcon founder Jeff Lemke took upon a challenge of building a street machine of his own. The process hasn't been easy but the result is nothing short of stunning.
The idea for its concept-turned production F7 was borne out of passion and a vision for a super car that would match the power and sleekness of international heavyweights such as Ferrari, Porsche and Lamborghini.
"My background is doing aftermarket stuff for Vipers and things like that," said Lemke. "I've dealt with and built cars, specific different types of Corvettes and that sort of thing throughout my history and I knew I had the tools and the know-how to get it done."
"It was a moment where I was kind of sitting around and I was probably insane and 'ennnhhh it's going to be easy', so I went for it. I pulled the trigger and realized I was very wrong."
Since starting the project in 2009 it hasn't been an easy road but Lemke's dream has finally come to fruition. At last year's NAIAS he debuted the car as a concept called Mach 7 and it attracted a lot of interest. Many concept cars fail to go into production and remain a one-of-a-kind, but that wasn't the case for Lemke – he saw an opportunity.
Close up look at the headlights (Aman Dhanoa)"It just started out of pure passion," said Lemke. "It was a car that I felt was a missing market in the sports car segment and I wanted to fill it. For around the $200,000 mark, there wasn't a car like this available. Most cars like this were well over $500,000 and I felt I could do it for less."
And that's exactly what he has done. At the cost of roughly $195-250,000 US, Falcon's direct competition from other American supercars are the Saleen S7 (roughly $550,000) and the SSC Ultimate Aero ($650,000) – so the F7 is a bargain in comparison. Other exotic cars, such as models from Ferrari and Lamborghini are also priced well over the F7 and range from $200-600,000.
The first production car, VIN number 001, was on display at this year's NAIAS has already been sold. The goal this year is to sell a total of 10-15 and 25 every year thereafter.
"We're not looking for volume production here by any means," said Verbrugghe. "We want to keep it in that certain competitive sector where there's not too many people that have it, so it's a wanted item still. That's kind of where we want to be. This car kind of demands the respect from its driver so really it's not for everyone."