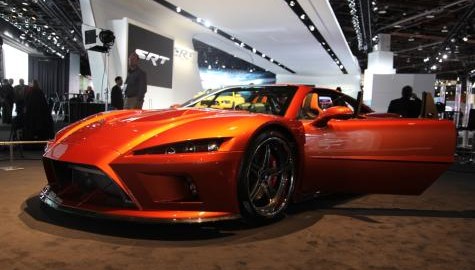 Everyone knows Detroit hosts the most important auto show in North America – and automakers don't hold back when it comes to flaunting their newest cars to the thousands of journalists who pack the halls before the event goes public.
This year the hottest things in the mix have an eye toward efficiency and a glance back at heritage. Mercedes-Benz unveiled its 2013 SL roadster, the latest model in its 60-year-old gullwing-famous line. The $148,000 car is 250 pounds lighter than its predecessor with 40-percent improved efficiency–but also has 12 percent more horsepower and goes 0-60mph in 4.6 seconds with its 500 SL V8. Click here for full pictures and more specs.
Also new on the floor is Bentley's 2013 Continental GT V8, a 500-horsepower variant with aggressive detailing and curved body lines that make it look ready to pounce. Plus a new red Bentley badge on front, new figure-eight tailpipes and a new "Dragon Red" paint job.
Red seemed to be a popular color on the floor this year (is it because it looks best with the black dresses on the models?). Porsche debuted its 911 Carrera cabriolet in a bright cherry hue–the car, though perhaps understated in its lines, uses a novel top with fewer visible supports that create a more natural arch across the car.
Audi also embraced the trend, showing its TT RS–complete with red-tinged rims–and Q3 Vail edition SUV in a searing rouge. It was a marked imrovement from last year's chocolate brown R8 Spyder (PR reps continue to say buyers genuinely like the brown tones these days, though some may beg to differ…). This year the R8 Spyder on display was a subtler matte the color of the Detroit River on a good day (blue, that is).
The folks at Michigan-based Falcon are still embracing the brown trend, apparently. Their Falcoln F7 supercar smacks of '70s angles and '70s bronze tones–which appeals to a lot of people, one man assured his companion while they contemplated the car. F7′s performace numbers could also help the appeal: a 620-hp 7-liter V8 engine  with a 0-60mph time of 3. 6 seconds. Top speed is 200 miles per hour (click here to figure out how to buy the thing).
Of course BMW's electric i8 concept on display is famous for its cameo in Mission Impossible: Ghost Protocol. And Cadillac's 270-hp four-cylindar ATS caused quite a ripple when the automaker unveiled it Sunday night.
Tesla's Model S sedan attracted a similarly excited contingent of Asian journalists fascinated by the in-house technology and unique unibody frame that characterize Elon Musk's $49,900 electric sedan. (This is the car reputedly faster than an Aston Martin, safer than a Panamera and more efficient than a Volt–it Musk can pull it off, it'll crown Tesla as the most forward-thinking brand of its time and change the auto industry nationwide).
It wasn't always like this. Last year at the North American International Auto Show proved decidedly more dull: listless hallways, relatively empty cocktail hours. Most of the international press, if they attended at all, left halfway through the second official day of press previews–and that was a better showing than in 2009.
This year hotel rooms at prime spots sold out months in advance; even a month prior to the show the only decent rooms available were located in nearby Dearborn. What's more, walkways between automaker booths yesterday during the media preview were crammed; press conferences on the large floor allowed standing room only.
And if cynical automotive journalists think there's something worth seeing in Detroit, you know it's going to be a good year. Click through the slideshow to see the hottest cars on the floor this year.